dmaic MES Software - our services
Dmaic software offers customised systems, from individual and adaptable modular systems to complete systems ready for immediate use. Our attention is always focused on maximum stability, speed and resource efficiency, a flexible and expandable architecture and transparent, structured and intuitive user interfaces.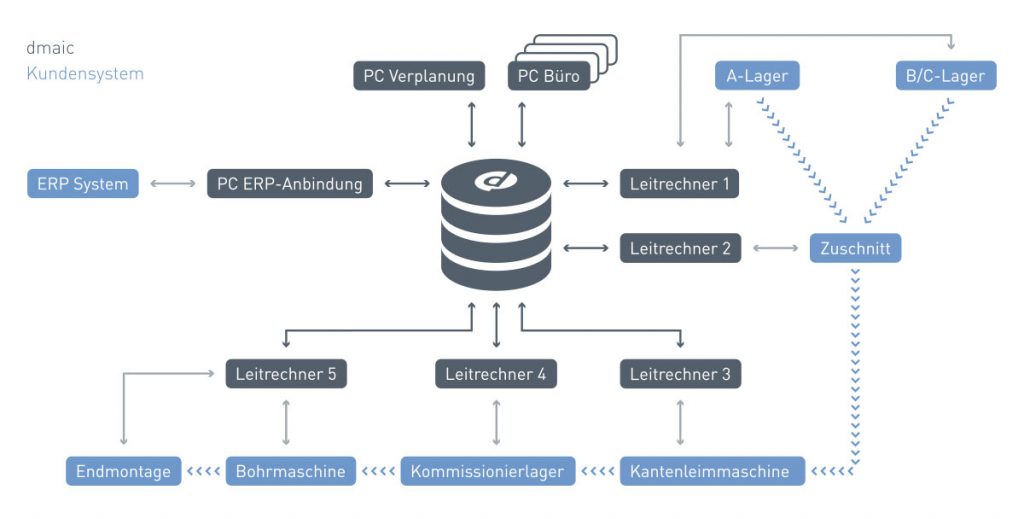 Dmaic gives a clear overview of the production process and the tracking of individual workpieces in (partially) automated plants.
The modules of our system are put together in consultation with the customer to create a comprehensive MES. This allows us to offer a lean solution that can cover all desired use cases. Of course, the possibility of extensions and compatibility with existing and planned machinery is given.
Designed to relieve.
Whether data import into the production control system, feedback on the work progress or stock level reports – a dmaic ERP interface connects production and ERP system seamlessly. Efficient and fully automatic.
More efficient and intelligent.
The dmaic storage control, and management for rack and area storage systems inspires through intelligent part handling and optimised storage, retrieval, transport, and pre-picking processes. The simple configuration of the warehouse into areas with storage of single-variety, group dynamic and chaotic storage ensures flexibility. The detailed warehouse statistics support you in structuring your warehouse. Rounding off the package with the optional modules for remnant and block storage management.
Trendsetting innovations
are our driving force.
The dmaic 3D plant visualization convinces by a simple, clear, reduced 3D representation of the plant and all relevant conditions and parameters. This representation guarantees a fast recording of the current system status. The innovative operating concept allows direct interaction and ensures an intuitive user experience. Material bookings, troubleshooting and manual interventions become child's play.
Manufacturung execution systems
Industry 4.0 consistently implemented.
A dmaic MES realizes short throughput times, high material availability, efficient material flow, adherence to schedules, and economic use of operating resources. The structured and transparent presentation of all production-relevant processes and key figures order into complexity. From the craftsman's workshop to the industrial batch size 1 manufacturing – due to its flexibility and scalability, a dmaic MES is a match for any task grown. And thanks to the modular design, new plant components are quick, and integrated for operational reliability. If the processing machines connected to the MES are also connected to transport technology, the MES automatically controls the workpiece flow. The control is set to workpiece plane, i.e. the transport path of the workpieces is determined individually for each workpiece, and is controlled at the decision points in real time. The status of the system and the connected machines is monitored permanently. In case of a machine malfunction the dmaic-MES reacts immediately and, if necessary, directs the workpieces via an alternative route. The processing data for the connected machines is generated and transmitted completely by the MES. The identification of the workpieces is usually carried out via a label with barcode, RFID tag, or an accompanying sheet with bar codes, meaning that a simple scan can be used to load machines and provide them with processing data that is not connected to the automatic transport technology.
Cutting optimization
in 1D, 2D and 3D
Creating independence.
The planning-module is intuitive, tidy and powerful – typical dmaic. The numerous sorting, grouping and filter functions provide an ideal overview of production orders, and an effective work flow. The modular architecture and the standardized communication interface between planning and optimization core allow the use of different optimization cores from different manufacturers.
Everything in view.
For qualified decisions, a comprehensive overview of quantities, processing times, availability, performance, and system effectiveness is essential. Software from dmaic helps you recording and evaluating these key figures in order to reliably detect open potential and hidden bottlenecks.
Efficient and safe packing.
Software-optimised packing results in significant savings potential. Inefficient, manual packing planning is no longer necessary. The consequence is a noticeable reduction in packaging and logistics costs.
Completely freely configurable variables and parameters ensure that dmaic packaging optimisation can be used in existing processes and machinery without restrictions. The packaging optimization already offers the control of various well-known packaging machines.
By defining surfaces or edge properties that require special protection, optimisation potential can be fully exploited without jeopardising the integrity of the packages in the packaging and shipping process.
Maybe you already have an idea how you would like to use our servicesfor your company?
We look forward to hearing from you without obligation.